Salon Roquet

The Display Cabinet
Where our awards are kept!
Salon Roquet just won its' first award (19th December 1999)! Huge thanks to Pikachuu's Pokéball! Click below to go there.
And our second award, from PsyPoke.com - one of the largest Poké-sites on the 'net! (21st December 1999)
Our third award is from a great Team Rocket site - Team Rocket's Corner! (25th December 1999)
This next one is an award from one of Salon Roquet's loyal customers! Thanks Mewtwo! (5th January 2000)
Thanks to Pratch for this cool award!! (February 2000). Click on the award to check out his site!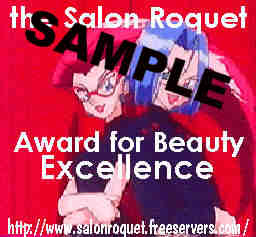 Win Our Award!
This is just a sample, the actual award you could receive is higher quality and obviously doesn't have 'SAMPLE' stamped across it! It also has a white border.
Got a Team Rocket site? If you think your site is good enough to win the Salon Roquet Award for Beauty Excellence, then just simply fill out the form below and send the information.
After we have checked it out, if we deem it worthy for such a prestigious award:), you'll be emailed with the HTML code for it as soon as possible!
Here is a list of links to sites that have won our award!
---